LETTERPRESS POSTERS AND WE CAN PRINT FOR YOU
Here you'll find posters we have designed and client designed letterpress posters. Birthdays, events, and parties. Letterpress printing makes your special occasion unique, sophisticated, or playful. We also hand carve linoleum, use wood or metal type for your poster or get a photopolymer plate made from your digital design.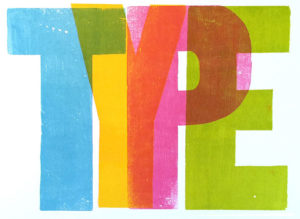 LETTERPRESS WORKSHOPS
Workshops are taught on a Vandercook Universal I, Vandercook Universal III, or the Conrad Monotype Press.
Students will learn the basics of letterpress printing through demonstrations and hands-on experience. Letterpress printing is ideal for creating broadsides, posters, books, cards, and personalized letterhead. Using Inky Lips Presses wide array of lead and wood type and engraved imagery, students will explore composition, typography, and color.
Please come prepared with your ideas, so that you may most efficiently utilize press time in class. You will have the opportunity to do one or two of your own personal projects, depending upon the complexity and size of the print run of each project.
The cost of a workshop is $175.00 per person on a Saturday from 9:00 a.m. – 5:00 p.m. We supply the presses, paper, ink, and trimming if needed. Send us an email if your interested.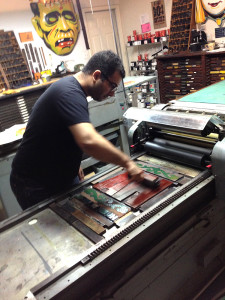 WOOD TYPE
We have carved 27 typefaces that were carved on a Fireball Comet CNC Router. We scan in historical wood type specimen sheets and rebuild the characters in Adobe Illustrator. Close attention is paid to type anatomy to assure the typeface integrity. We can make catchwords or ornaments for you.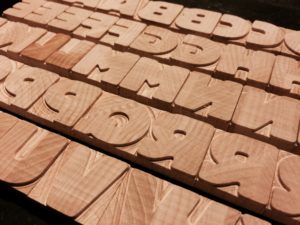 LINOLEUM HAND CARVED AND CNC ROUTER
If your project needs carving, we can do it for you. We use Battleship Gray linoleum from Dick Blick which holds a good line and prints crisp or hard maple wood if it's an image you need. Here are a few carvings that we've done over the past few years.
LETTERPRESS PAPER WE LOVE
Choosing a letterpress paper is an important part of the printing process and our choices are: French Paper, Cranes Lettra, and Reich Savoy
French Paper for letterpress printing, the 140# heavyweight Muscletone is terrific for creating deep impressions for business cards and invitations and the colors are especially nice for posters.
Crane's Lettra and Reich Savoy is made for letterpress. It is 100% cotton and stable on press. The distinct letterpress finishes is perfect for printing.